So tomorrow is my birthday. My 44th Birthday to be exact and I am not planning on doing anything special just getting up going to church and then brunch and maybe some afternoon swimming. So what have I learned in those 44 years you ask? The most important thing I have learned is to treat people like you want to be treated (even if they don't treat you the way you would like) and to live each day as if it were your last!
I have been working on some cards for a great cause. To find out more about this great cause and how you can help please visit my friend Jennifer McGuire's blog and click on the Card Drive for Kids link on the side. It would be great if you want to help with this cause. If you chose to help she has posted her address where you can send the cards or you can send them to me and I will forward them for you. And here is a picture of one of the cards I have made.
Well some sad news: Kayley's job didn't work out so well. The manager didn't speak very good english and he was hard to understand. With her auditory processing problems it made it even harder so after her day of training she was suppose to go back and work a full shift but she was so upset and scared that she went in and quit instead. I only hope that she will not be afraid to apply for another job because of this first experience. In other news she passed her Economics class with a B and she is currently working on her government class.
The twins have been going through their room and now are convinced that they are going to make some good money at a garage sale. I keep telling them not to get their hopes up but they keep telling me they are going to do good. It is currently being planned for July 11th and 12th.
I have been checking in on my cousin Jennifer's blog and found this cute little quiz so I thought I would post it here for all of you to find out which Disney Princess you are. (I am cinderella) Anyone who knows me knows how much I love Disneyland or anything Disney for that matter.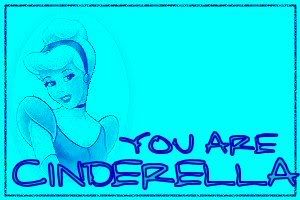 Dignified and hard working. With a gentle and soft-spoken manner you have something many people don't. Patience. Even through the moments of heartbreak you're still able to hold onto all of your hopes and dreams. Bide your time; your dream will come true.
Which Disney Princess Are You?
I have been having some health issues lately but I think it will all be fine and I will keep you all updated as soon as I know anything more.
Until next time....look for something good each day and be thankful!